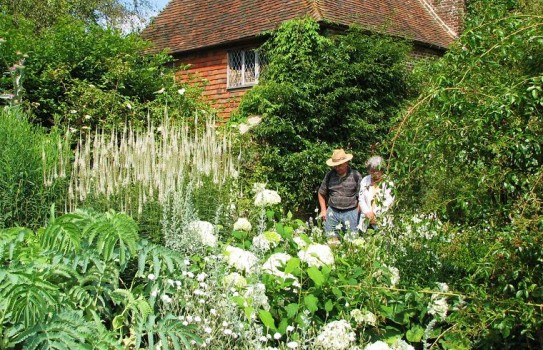 Sissinghurst Castle Garden
Sissinghurst Castle is one of the most famous and delightful gardens in the British Isles.
Sissinghurst Castle garden was created by Vita Sackville-West and Harold Nicolson who transformed the ruins of this Elizabethan mansion and gardens in the 1930s. The castle tower dating from the 16th century is virtually all that remains of the grand Manor House.
People come from all over the world to see the Garden which is administered by the National Trust.
The garden is divided into a series of rooms filled with informal arrangements of plants around a theme: the White Garden, the Purple Border, the Rose Garden, the Herb Garden, the Lime Walk, and the Cottage Garden.
The White Garden with rosa mullingani has cascades of white flowers and is surrounded by other white and grey plants.
Recently the Delos Garden inspired by Vita Sackville-West, and their visits to this Greek Island, has been remade under the guidance of Troy Scott-Smith and the Dan Pearson Studio, a dry garden with drought-tolerant Mediterranean species, amongst rocks and gravel.

Sissinghurst Garden is one of our top 20 gardens in the British Isles and is a must visit for the garden lover.

Sissinghurst Opening Times - click here

Do not Miss Vita's writing room and take time to climb to the top of the tower.
The wider estate is over 400 acres which you can explore, walk the dog or cycle.


Contact
Telephone: 01580 710700
E-Mail:

This email address is being protected from spambots. You need JavaScript enabled to view it.

Website: Sissinghurst Castle Gardens
Address
Street: Sissinghurst
Postcode: TN17 2AB
City: Cranbrook
County: Kent
Country: United Kingdom
HOTELS AND PLACES TO STAY NEAR TO GARDEN
If you want to find places to stay near and accommodation Sissinghurst Castle Gardens , why not stay in one of our recommended hotels. Look now for Sissinghurst Castle Hotels
Garden Location on a Map