Hemingford Grey The Manor Garden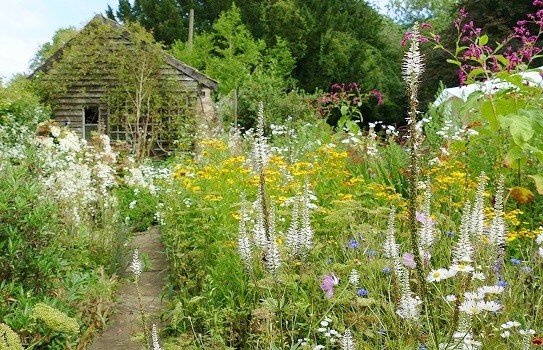 Hemingford Grey The Manor Garden
The Manor at Hemingford Grey was recreated and made famous as the house of Green Knowe by Lucy Boston in her series of children's books, now regarded as classics.
The Manor Garden, Hemingford Grey - Beautiful Cottage Gardens surround the Manor at Hemingford Grey, one of Britain's best kept secrets.
The gardens were re-juvinated by Lucy Boston who lived here for 50 years until 1990. During the war years she planted mostly trees and shrubs. As a child she was fascinated by the topiary at Levens' Hall so she planted eight 10" high yew plants on either side of the path to the river.
These became cones and then for the Queen's coronation she clipped them into crowns, orbs and the dove of peace from the old sceptre.
After the war she started to garden in earnest, collecting old roses and irises with the help and advice of Graham Stuart Thomas.
The gardens have continued to be maintained in the 'cottage' style by Diana Boston, her daughter in law who also gives guided tours around the Manor.
QUOTE 'Come and drift with the bees and butterflies in the tranquility of this garden'.
Lucy Boston was awarded the Carnegie Medal for the best children's book published in 1961 – A Stranger at Green Knowe. Some regard it as the best children's animal story ever written.
THE MANOR HOUSE - There is a certain amount of scepticism when people first see the red brick Georgian front and are told that it is one of the two oldest continually inhabited houses in Britain.
There is no clue that visitors will get the chance to sit in a room which is structurally the same as when it was built 900 years ago – other than a new beam probably inserted in the 1300s and electricity which was installed in 1939.
Do try to experience this beautiful place which is set by the River Ouse.
The Manor House garden Opening Times 2021 - see latest information by visiting website.
The House is open throughout the year but strictly by appointment.


Contact
Telephone: 01480 463134
Fax: 01480 465026
E-Mail:

This email address is being protected from spambots. You need JavaScript enabled to view it.

Website: The Manor Garden, Hemingford Grey
Address
Street: The Manor, Hemingford Grey
Postcode: PE28 9BN
City: Huntingdon
County: Cambridgeshire
Country: United Kingdom
HOTELS AND PLACES TO STAY NEAR TO GARDEN
If you want to take a break, why not stay in one of our recommended hotels. Each hotel has genuine guest reviews enabling you to book from anywhere in the world in total confidence. Not only do we feature hotels near the garden, we also feature hotels worldwide and at all major airports. Special prices up to 70% off standard rates as well as hundreds of exclusive deals. Look now - click here.
Garden Location on a Map