Great Dixter Gardens near Rye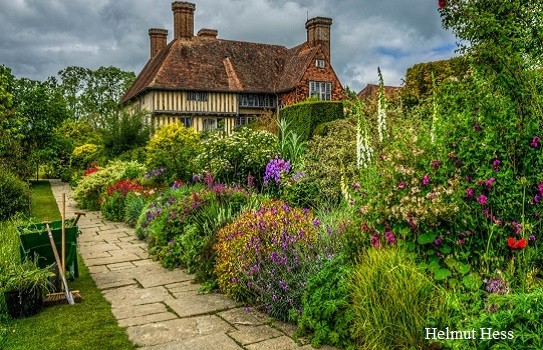 Great Dixter Gardens near Rye
Great Dixter is the family home of the late Christopher Lloyd, who had devoted his lifetime to creating one of the most experimental, exciting and constantly changing gardens of our time.

HISTORY OF GREAT DIXTER
The house has an interesting history and dates from the 15th century. The house was bought by Nathaniel Lloyd in 1909 and he already had a similar one in Kent which he moved and rebuilt to combine with the existing house. He commissioned Lutyens for the task and to design the garden. Incorporating many medieval buildings, the gardens at Great Dixter surround the house, each complementing the other. The original plantings were by Mr and Mrs Nathaniel Lloyd and later Christopher Lloyd

WHAT TO SEE?
There is a wide variety of interest from yew topiary, carpets of meadow flowers, dazzling colourful mixed borders (including the famous Long Border), natural ponds, a formal pool, to the wonderful Exotic Garden. The late Christopher Lloyd and head gardener Fergus Garrett were constantly experimenting at this great garden and it is one no garden enthusiast should miss.

WHAT ARE THE FACILITIES AT GREAT DIXTER - Shop, disabled access although difficult in places, plant sales, refreshments.
Editor's favourite - This is one of our Top ten Gardens in the British Isles and not to be missed.
Is Great Dixter National Trust?
No, it is owned by a private charitable trust
Where can I stay near Great Dixter Gardens?
We give information on hotels and places to stay near the garden.
Is Great Dixter Dog friendly?
No
Contact
Telephone: 01797 252878
E-Mail:

This email address is being protected from spambots. You need JavaScript enabled to view it.

Website: Great Dixter Gardens
Address
Street: Great Dixter
Postcode: TN31 6PH
City: Northiam
County: Sussex
Country: United Kingdom
HOTELS AND PLACES TO STAY NEAR TO GARDEN
If you want to find places to stay near Great Dixter Gardens, stay in one of our recommended hotels offering great discounts. Look now for Great Dixter Hotels
Garden Location on a Map