Glenwhan Gardens, Stranraer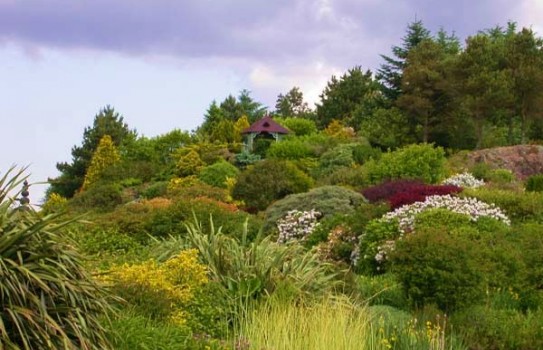 Glenwhan Gardens, Stranraer
Glenwhan has been described as one of the best newly created gardens in recent times and is regarded as one of Scotland's important gardens.
Twenty-five years ago there existed but bracken & gorse and the odd willow at Glenwhan Garden near Stranraer but it is now known as one of the most beautiful gardens in Scotland.
With a south facing aspect, 300 ft above sea level, there are magnificent views to Luce Bay and the Isle of Man. With the help of the Gulf Stream, many plants flourish from around the southern hemisphere. This is a plants-women's garden for all seasons; in spring & early summer rhododendrons and azaleas dazzle the visitor. Many rare gems may be discovered.. A peaceful haven with seats and winding paths through woodland walks surprises maybe found round every corner. Peacocks, red squirrels & ducks live in the garden.
It is interesting to see and compare the Native Moorland which is how the garden started out. We have mown grass paths and the walk takes about 20 mins. The slopes are covered in a mass of bluebells which indicate there was once ancient woodland. No fertiliser has ever been used on this ground, and the native gorse harbours a variety of birdlife including yellow hammers which flit from post to post with their song 'A little bit of bread and no cheese!.'
Glenwhan Garden Opening Times - click here .

Licensed tearoom seasonal. Small nursery Disabled facilities and Bus parties catered for - should book in advance.

Visit other beautiful gardens in Scotland
Address
Street: Glenwhan Gardens, Dunragit
Postcode: DG9 8PH
City: Stranraer
County: Wigtownshire
Country: United Kingdom
HOTELS AND PLACES TO STAY NEAR TO GARDEN
If you want to take a break near Glenwhan Garden, why not stay in one of our recommended hotels. Look now - click here.
Garden Location on a Map