Saith Ffynnon Farm, Holywell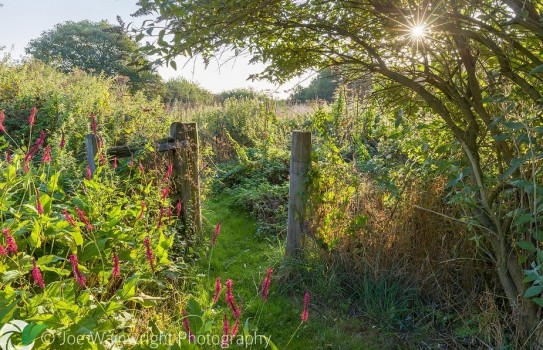 Saith Ffynnon Farm, Holywell
Saith Ffynon Farm in Flintshire - rewilded meadows and garden - One-acre wildlife garden with 8-acres of unimproved wet meadows, native woodlands and ponds.
'Saith Ffynnon' means Seven Springs or Wells, and we sit on the spring-line where the limestone of Halkyn Mountain just to the south hits the boulder clay. Hence lots of natural springs pop out in the wetter times of year. (This is also why the ancient 'Holy Well' of Holywell is just a few miles away). A farm has been on this site for at least 350 years, and the fields have never been ploughed or re-seeded with modern grasses. Some of the original orchard trees remain as well as some rare wild flowers.
The one-acre garden and adjacent fields of 8 acres, over more than 30 years, have been planted and managed to enhance the wildlife visiting the area, especially butterflies and other insects which are the basis of the food chain for birds, bats, small mammals and then the larger birds and mammals that feed on them. Several different types of habitat are represented in a relatively small area.
The gardener, Jan Miller-Klein is a well-known geologist, naturalist and writer who has appeared on TV and Radio and given public talks on the links between nature conservation and gardening for over 20 years. She is the author of books like 'A Country Diary for North Wales' and 'Gardening for Butterflies, Bees and other benficial insects' as well as media articles and Blogs. She runs her website www.7wells.co.uk which also sells plants for wildlife.
In her garden she tries to show a relaxed way of combining gardening with helping wildlife - a topic that is becoming increasingly popular. When you visit you will find wildlife to see – like pond creatures in an aquarium, moths just caught the night before in a light trap, cameras on live bird nests or next to the badger sett, wild flowers and their seeds to collect; and children as well as adults will be invited to join in their identification and study.
However Beware! There are nettles, prickles, hidden ponds and uneven ground! Please wear appropriate clothes and footwear. Children are very welcome, but should be accompanied by an adult.

Saith Ffynnon Farm Opening Times 2022 - click here
Contact
Telephone: 01352 711198
E-Mail:

This email address is being protected from spambots. You need JavaScript enabled to view it.

Website: Saith Ffynon Farm
Address
Postcode: CH8 9EN
County: Flintshire
HOTELS AND PLACES TO STAY NEAR TO GARDEN
If you want to take a break, why not stay in one of our recommended hotels. Each hotel has genuine guest reviews enabling you to book from anywhere in the world in total confidence. Not only do we feature hotels near the garden, we also feature hotels worldwide and at all major airports. Special prices up to 70% off standard rates as well as hundreds of exclusive deals. Look now - click here.
Garden Location on a Map