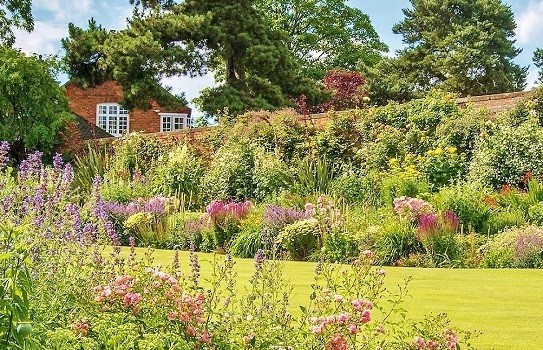 Goldstone Hall Gardens
Goldstone Hall Gardens near Market Drayton are award winning, situated in the heart of England and managed by the Cushing family
Goldstone Hall Gardens are award winning, situated in the heart of England and managed by the Cushing family. The Georgian Manor house with restaurant and 12 comfortable bedrooms includes mature, beautifully designed 5 acre grounds and is located in the lee of Goldstone Hill overlooking the tree strewn hills of the North Shropshire, known locally as the 'golden garden triangle'.
The immaculate 5 acre gardens and productive one acre kitchen garden, were initiated by John Cushing's mother, Helen Ward, who channelled her passion for gardening into transforming the wilderness that was. The gardens and grounds are maintained to an incredibly high standard by head gardener, Nick Huxley and team, under the guidance of passionate plant enthusiast John Cushing.
The garden has been designed for pollination, cultivation, relaxation, enjoyment and is the perfect setting for admiring the well thought out planting followed by afternoon tea, a game of croquet or perhaps a special celebration.
The Goldstone haven includes a diverse and wide variety of flowering plants and trees which have been chosen for their suitability to climate and soil type, as well as their individual qualities such as flavour, fragrance, colour and stature.

Goldstone Hall 2022 - see latest information and openings click here

Open to guests, gardening groups plus also open various days for NGS. -
Contact
Telephone: 01630 661 202
E-Mail:

This email address is being protected from spambots. You need JavaScript enabled to view it.

Website: Goldstone Hall Hotel Gardens
Address
Street: Goldstone
Postcode: TF9 2NA
City: Market Drayton
County: Shropshire
Garden Location on a Map