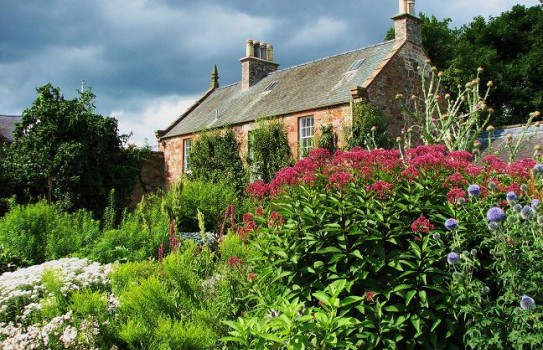 Priorwood Garden
Priorwood is a specialist small garden where plants grown are selected for their suitability for drying.
Priorwood Garden is set right in the middle of the small beautiful town of Melrose.
The colourful and imaginative selection of flowers grown in this small garden ensures a great variety for the dried flower arrangements made on the premises. It also provides material for courses held here on the ancient craft of drying flowers. The garden also has an orchard with many historic varieties of apples which are organically grown.
Visitors can enjoy the different blossoms in spring, have a picnic in summer and catch a glimpse of the impressive ruins of Melrose Abbey which overlooks the garden at Priorwood.
The borders are best from June onwards.
Harmony Garden is a five minute walk.
Opening Times 2021 - see latest information by visiting website NT for Scotland, Priorwood -
Gift Shop.
Contact
Telephone: 01896 822493
E-Mail:

This email address is being protected from spambots. You need JavaScript enabled to view it.

Website: Priorwood Garden
Address
Street: Priorwood Garden
Postcode: TD6 9PX
City: Melrose
County: Scottish Borders
Garden Location on a Map