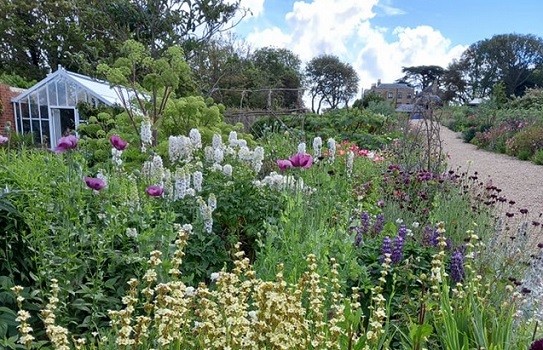 Farringford Gardens
Farringford Garden - Find out more about Tennyson, his family, and his love of gardening and the natural world!.
We are delighted to reopen Farringford Gardens to the public and we hope that during your time here you will enjoy learning more about Tennyson, his family, and his love of gardening and the natural world.
Elsewhere, visitors can explore the copse with its enchanting woodland perennials, and enjoy a walk around the recreated historic parkland, which affords lovely views of the house, and of High Down, its rounded upstanding ridge referenced in Tennyson's poem,
"To the Rev. F. D. Maurice.":-
"Went to our withey bed, such beautiful blue hyacinths, orchises, marsh marigolds and cowslips. Wild cherry trees too with single white blossom.
The park has for many days been rich with cowslips and furze in flower. The elms are a golden wreath at the foot of the down, we admired the mespilus in flower and the apple trees with their rosy buds. [Alfred] dug the bed ready for the rhodedendrons.
A thrush was singing among the other birds, as he said 'mad with joy'. At sunset the burning splendour of Blackgang Chine, and St Catherine's, and the red bank of the primeval river contrasted with the turkis-blue of the sea (that is our view from the drawing-room) make altogether, a miracle of beauty. We are glad that Farringford is ours."
You may also be lucky enough to catch sight of the red squirrels that have made Farringford their home.

2022 Farringford Gardens Opening times click here
Contact
Telephone: 01983 752500
E-Mail:

This email address is being protected from spambots. You need JavaScript enabled to view it.

Website: Farringford Gardens
Address
Street: Bedbury Lane
Postcode: PO40 9PE
City: Freshwater
County: Isle of Wight
HOTELS AND PLACES TO STAY NEAR TO GARDEN
If you want to take a break, why not stay in one of our recommended hotels. Each hotel has genuine guest reviews enabling you to book from anywhere in the world in total confidence. deals. Look now - click here for Farringford Garden Hotels.
Garden Location on a Map