Iford Manor Garden, near Bath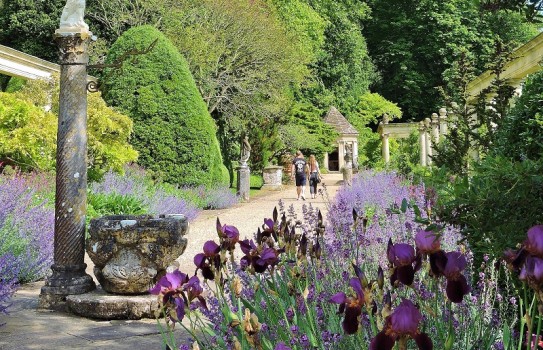 Iford Manor Garden, near Bath
Family owned Grade 1 listed garden, once home to the famous garden designerHarold Peto
History of Iford Manor Garden
This Grade 1 Italian style garden is famous for its tranquil beauty and was the home of architect and designer Harold Peto from 1899-1933. It is in a stunning setting next to a river where you can picnic.
What to see
• Inspired by Italy and the gardens of Ancient Rome, he created a unique and romantic hillside landscape with an other-worldly atmosphere, a showcase of his abilities as a designer.
• Steep paths twist and turn around ancient statues, columns, and architecture which, combined with ebullient planting schemes, lead you on in anticipation of the next delight or magnificent view.
• There are a series of terraces with the top terrace leading to 'the Cloister' enclosing a courtyard. In the centre of the courtyard stands a well-head from Aquilegia, Italy.
• Do not miss the lovely shady Japanese garden above the highest terrace
This garden is a must visit for those interested in Garden Designs. Steeped in history, these tranquil Italianate were rated as Vogue's #5 Favourite Garden to visit in the UK (Vogue, April 2017).
Find out more about Harold Peto and why he loved this place, the garden you now see, which remains home to a large part of his collection of statues and antiquities.
Since 1910, visitors to Iford Manor Gardens have received a warm welcome, a tradition that we are proud to continue. Used as a key location in "The Secret Garden" starring Colin Firth and Julie Walters (2020), we hope that you enjoy visiting and exploring our very real secret garden on the Wiltshire/Somerset border,

Opening Times - From April 1 - click here
Partial disabled access. Coaches by appointment only. Group visits available outside of hours.

Please contact us for details.
Our café and restaurant offers visitors lunches and afternoon tea, as well as a selection of snacks, fresh cakes and hot and cold drinks to garden visitors and walkers alike, with a large outside seating area and views over the valley and an indoor area for the colder weather.
Please note that Children under 10 are not permitted to the garden
Contact
Telephone: 01225 863146
E-Mail:

This email address is being protected from spambots. You need JavaScript enabled to view it.

Website: Iford Manor Garden
Address
Street: Iford Manor
Postcode: BA15 2BA
City: Bradford on Avon
County: Wiltshire
Country: United Kingdom
HOTELS AND PLACES TO STAY NEAR TO GARDEN
If you want to take a break near to Iford Manor Garden, Bath, why not stay in one of our recommended hotels. Each hotel has genuine guest reviews enabling you to book from anywhere in the world in total confidence. Look now for hotels near Iford Manor Garden
Garden Location on a Map